Melanie Chmielewska Sculptor
Sculptor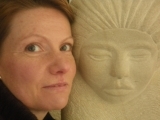 Education
1981-83 Cleveland college of Art and Design Cleveland

Diploma in Art and Design



1983-86 Kent Institute of Art Canterbury

BA(Hons) Fine Art
Work Experience
1990-94 Worked as co-worker and Artist in Residence

Worked at The Camphill Rudolf Steiner schools for children with special needs, in Aberdeen. Also giving sculpture workshops to pupils and co-workers.

1995-2004 Lived and worked in Poland

Became a member of the art group 'Formalina'

2005- Living and working in Argyll, Scotland.

2009 Became a member of Artmap Argyll

Joined in the Open Studio event.

2009 Steward in the Lantern Workshops.

2010 Art map stone carving workshop

2010 Dalriada stone carving workshops

2010 Artmap open studio event
Exhibitions
1986 A group exhibition in Canterbury Cathedral. Peace and Justice

1989 Solo exhibition in Brancepeth castle, Durham.

1990 Solo exhibition Middlesbrough Art Gallery.

1992 Group exhibition

in conjunction with a world conference for art within the Rudolf Steiner schools, where artists from around the world were invited to speak of their work within Camphill.

1994 solo exhibition Newton Dee, Camphill Village for adults with special needs.

1998 Solo exhibition . Trzebnica, Poland. House of Culture.

1999 Solo exhibition. Oborniki Sl. Poland 'The saloon of four Muses'.

2000 Group exhibition with 'Formalina'. Strzeszow.Poland

2002 Solo exhibition, Park plaza hotel, Wroclaw ,Poland.

2002 solo exhibition, House of culture, Trzebnica, Poland.

2002 Group Exhibition with 'Formalina' Wroclaw, Poland.

2008 Lochgilphead Annual Art Fair

2009 Lohgilphead Annual Art Fair

2009 Kilmartin Museum ,Artmap group exhibition.

2009 Dunollie House, group exhibition the hidden jewel

Part of the Homecoming events in Scotland.

2009 Crinan hotel, group exhibition

2009 Dochas Gallery. Artmap group exhibition

2010 Crinan Hotel R.G.I

2010 Lochgilphead Annual Art Fair

2010 Kilmartin house Museum ,group exhibition 'Mixing up The Media'

2011 Cream of Argyll exhibition, Lime Gallery, Glasgow. Exhibition of art by various Argyll artists.
Commissions
1987 A sculpture to celebrate the 50th anniversary of Tirly Garth, centre for moral rearmament. Cheshire.
1988 A sculpture on the theme Amnesty international
For the Church of England Centre for Education, Durham .
1994 A sculpture for Camphill House, Camphill Rudolf Steiner Schools, Aberdeen
1994 Tobias and the Angel. Private commission.
1994 Grave stone. Private commission.
1999 Relief stone carving of Mikolaj Kopernik
For Zawonia Primary School. Poland.
2000 Relief stone carving of King Henry the Bearded,
For Trzebnica secondary school, Poland.
2003 private commission, Poland.
2007-2009 St. Brandons Church, Brancepeth, Durham.
A series of 16 sandstone corbels on the theme of the Christian life from birth to resurrection.